Ketchikan Steelhead Fishing Charters
Steelhead in southeast Alaska is a hidden secret. Everybody knows about the big rivers in British Columbia and the summer and winter runs on the Columbia river. But not very many know about all of the small hidden streams around Ketchikan that get steelhead runs. The biggest runs come in march, april, and may. These spring steelhead are a very very hard fighting fish. I've been on the rivers around here since I was just a small child where I have learned the holding spots and the seams that these fish travel up. Along with gorgeous steelhead there is a lot of trout in these little systems. Big rainbows, cutthroat, and dolly varden can grab your set up on any cast!
Fish Finder Charters fishes for Salmon in Ketchikan throughout the various seasons. Ketchikan offers anglers some of the most intense King Salmon fishing, Silver Salmon, and Sockeye Salmon fishing. We also run Pink Salmon fishing charters and Chum Salmon fishing trips. All the five Salmon Species run at specific times of the year giving anglers a wide range of fishing opportunities and Captain Slanaker will put you on the action.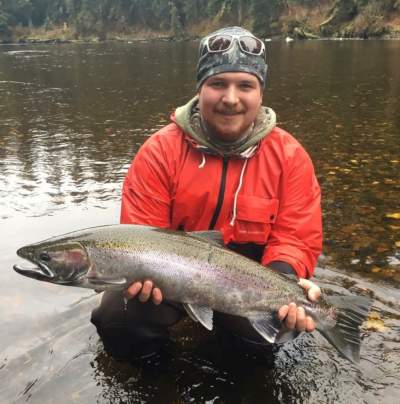 Fish Finder Charters runs the fastest boat in the Ketchikan fishing fleet and after many years of fishing theses water has gained knowledge on where the fish will be biting on the day of your fishing trip. Captain Colby Slanaker has expert knowledge & years of experience when it comes to navigating the waters of Ketchikan and catching all five species of Alaska Salmon. I keep top of the line fishing gear in tip top shape. I build a lot of my own gear, custom paint flashers, spoons, and I tie my own salmon flies to remain competitive and to stay ahead of the Ketchikan fleet. Most of my techniques are kept top secret and are only shared amongst a couple other professional guides that are in my circle. We have Ketchikan charter fishing excursions for expert anglers & beginners.
I operate my Ketchikan charter fishing trips from a spacious 30 foot Baha Cruiser named "Double Header". My Ketchikan Fishing boat is powered with Twin 225HP Yamaha Outboards. This delivers a combined 450HP motor package that makes us one of the fastest fishing boats in the Ketchikan fishing fleet. Getting to the fishing grounds faster gives us more time on the water for actual fishing time instead of a long run time. In addition to more fishing time, if we need to beat the weather back to town or relocate to find fish, we can do swiftly. I have an electric flush marine head on board and a very up to date electronics package. My fishing boat features a LCD Furuno Fish Finder and a standard horizon GPS chart plotter system. All safety equipment is up to date and exceeds US coast guard safety guidelines.